Jesus loves Osama Bin-Laden, but Hates Gays?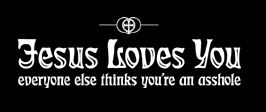 I find this an interesting way of attracting new parishioners...
tell them if Jesus loves Bin-Laden, he must love them too?
I totally understand that these aren't the same people that say God hates homosexuals, but I still find it funny how different people are using the same book to give completely conflicting points of view. Go-go magic bible!